It's normal for children's confidence to ebb and flow as they grow up. Childhood is a time of many transitions and adjustments, and even very confident children have periods of self-doubt. The shifts from elementary school to middle school and from middle school to high school are especially difficult ones. For example, a 12-year-old child who once ruled the sixth grade is suddenly in a brand new school, the youngest of the school, perhaps changing classes and teachers, and is dealing with new expectations, both academically and socially.
In fact, I have a friend whose child had that difficulty. What really helped her was that her mom kept reminding her that the school year was so short in comparison to her whole life, and sooner than she thought, it would all change. And of course, she was right.
From Good Kids, Bad Habits: The RealAge Guide to Raising Healthy Children by Jennifer Trachtenberg.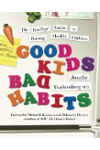 Continue Learning about Children's Health