There was a time not so long ago when the patient was in the backseat and the doctor drove the proverbial bus -- that is, made all the decisions. Most patients went along with this and tended to view MDs as all-knowing. Today, however, far fewer doctor-patient relationships fit this paternalistic paradigm. People now have access to almost unlimited medical information via the Internet, TV, books, and magazines. While most people still want and need the knowledge and experience doctors bring to the equation, many also want to be part of the health care process. In fact, one study found 86 percent of parents are likely to participate in decision-making with their doctor. But it also found that those who wanted a paternalistic relationship with their physicians were quite happy with doctors who had the same mind-set. I strongly prefer parents who view our relationship as a partnership. We are in it together. I provide medical expertise and know-how. You offer information that helps me diagnose and treat. And, of course, you make your final decisions with my guidance.
You also help me help your child—for example, by making sure medications are taken or symptoms are treated or a blood test is scheduled. We really do need each other, and that includes deciding on treatments together. It's best if we're both fully invested in the final outcome: good care and good health for your child.
These roles need not be absolute, by the way. You may want to have a patient-centered relationship, but during emergencies you expect your pediatrician to assume a paternalistic role and take charge. Whatever you envision, talk to the doctor about how you see your role. Personally, I feel like if you're involved in the decision-making, you will be happier with the outcomes.
From The Smart Parent's Guide: Getting Your Kids Through Checkups, Illnesses, and Accidents by Jennifer Trachtenberg.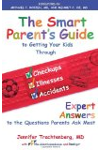 Good communication is the foundation of a good working relationship between your family and your pediatrician. So, staying in touch with your child's doctor can help you get the best care. Keeping up with routine health visits allows your pediatrician to stay up to date with your child's development and any health concerns. Prevention is often the best medicine. Maintaining good routine pediatric care will allow you and your pediatrician to address concerns early before they become severe. With good communication, your pediatrician can help you and your child access and coordinate specialty care, other health care and educational services, and public/private community services that are important to the overall well-being of you and your child.
This answer was created with the help of physicians at South Riding Pediatrics (www.SouthRidingPediatrics.com) and www.HealthyChildren.org.
Continue Learning about Children's Health