Help your other kids express their feelings, and reassure them they are not to blame. Tell them they can help their sibling out with chores if your ill child isn't feeling well enough to contribute or by being quiet when he needs extra rest. If your child has asthma, his siblings can help him remember his inhaler for school or pick up homework assignments if he's sick or in the hospital. But be careful not to put too much adult responsibility on your other children. You don't want to take time away from their growing-up experience. The goal is to make sure no one in the family feels like they're losing out, or losing you, because of your special-needs child. Make sure you spend time together as a family, and also carve out special time for each sibling. You may want to set aside a night a week for each child (and a night for yourself and your partner!) to spend one-on-one time together.
Eventually, by the way, your other children will want to know more about what's going on and perhaps get involved. If a sibling wants to come along on a hospital or treatment visit, that's lovely as long as the child is mature enough to handle it. Being together may add comfort during the treatment and understanding later on.
From The Smart Parent's Guide: Getting Your Kids Through Checkups, Illnesses, and Accidents by Jennifer Trachtenberg.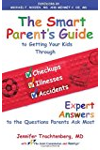 More About this Book
The Smart Parent's Guide: Getting Your Kids Through Checkups, Illnesses, and Accidents
What to Do When You Don't Know What to Do! "Moms and dads need expert guidelines, especially when it comes to their kids' health. This book reveals the inside strategies I use myself-I'm a parent, too!-to avoid critical, common blunders where it matters most: in the ER, pediatrics ward, all-night pharmacy, exam room, or any other medical hot spot for kids. These tips could save your child's life one day. Even tomorrow." -Dr. Jen Making health care decisions for your child can be overwhelming in this age of instant information. It's easy to feel like you know next to nothing or way too much. Either way, you may resort to guessing instead of making smart choices. That's why the nation's leading health care oversight group, The Joint Commission, joined forces with Dr. Jennifer Trachtenberg on this book: to help you make the right decisions, whether you're dealing with a checkup or a full-blown crisis. The Smart Parent's Guide will give you the information you need to manage the pediatric health care system. Dr. Jen understands the questions parents face—as a mom, she's faced them herself. She walks you through everything: from how to choose the best ER for kids (not adults) to when to give a kid medicine (or not to) to how pediatricians care for their own children (prepare to be surprised). Her goal is your goal: to protect the health of your children. There simply is nothing more important.
Continue Learning about Children's Health