Using this little hospital checklist from Uncle Sam can go a long way to keeping your kid out of medical trouble.
If you have a choice, pick a hospital at which many children have the procedure your child needs. All patients, young and old, tend to do better in hospitals that have a great deal of experience treating their condition. Ask how many of the procedures have been performed at the hospital.
Make sure you know who is in charge of your child's care at the hospital. This will be the attending physician, most likely a surgeon or specialist, not your pediatrician. Identifying this person is especially important if your child has many health problems.
Make sure that all health professionals involved in your child's care have important medical information about him. Do not assume that everyone knows everything they need to.
If you don't trust yourself to speak up, bring along someone you do trust. Ask a vocal family member or friend to help be your child's advocate. This person can also help you remember instructions during what can be an overwhelmingly stressful period. Time to call in a few favors!
Ask why each test or procedure is being done. It is a good idea to find out why a test or treatment is needed and how it can help. Sometimes a test is optional and your child could be better off without it.
When your child is being discharged from the hospital, go over the home treatment plan twice. Research shows that at discharge time, doctors think people understand more than they really do about what they should and should not do when they return home.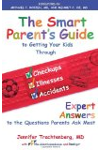 Continue Learning about Children's Health