After the age of three, it should be every year. If the child has any type of ongoing or chronic illness, they may need one more often.
Work with your doctor to determine how often your child needs to come in for checkups. In my practice, I recommend the following schedule, which is more frequent than is currently recommended by the American Academy of Pediatrics: At birth, one week, then once a month for the first six months, and every other month from six months to one year, then again at 15 months, 18 months, 21 months, 2 years, 2.4 years, 2.8 years, 3 years, 3.5 years, 4 years, 4.5 years, 5 years, then yearly through age 18.
From Good Kids, Bad Habits: The RealAge Guide to Raising Healthy Children by Jennifer Trachtenberg.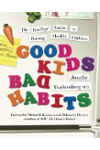 Continue Learning about Children's Health