It can be very tricky to differentiate growing pains from more serious problems. Some significant problems can present with fairly benign symptoms. Sometimes the child may complain of pain in the wrong area. For example, hip problems can present as knee pain. Watch for significant pain, so much so that you child cannot perform normal activities. If the pain continues in a significant and persistent fashion, take your child to the doctor for evaluation of other possible causes.
Symptoms that may point to more serious problems than growing pains include:
Pain in the joints
Redness, swelling or warmth over the joints or limbs
Persistent fever or fatigue
Weight loss
Persistent limp
Pain that persists in the morning
Pain that affects just one side
Prior injury to the painful area
Continue Learning about Children's Health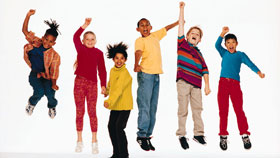 As a parent, you have questions about your kids' health. From common colds, lice, chickenpox and strep throat to eating disorders, obesity and learning disabilities, get the expert answers you need to raise a healthy child, tween, ...
or teen.
More