No doubt about it, kids who have close bonds with their parents and families are less likely to give into negative peer pressure, especially when it comes to risky behaviors like sexual activity, drinking, and drugs. Since the number of negative influences your child encounters increases as he gets older, you'll need to really focus on keeping the lines of communication open.
Also, daily conversations with your child in which you practice active listening -- even if they're just about the simple stuff -- will let your child know that he can approach you when he's facing difficult decisions or feeling pressured by his peers.
From Good Kids, Bad Habits: The RealAge Guide to Raising Healthy Children by Jennifer Trachtenberg.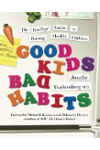 Your kid will be better prepared to handle peer pressure if you help him establish his own identity. In this video, psychologist Dr. Jennifer Hartstein discusses ways to help your child confident enough to stand his ground.
Continue Learning about Children's Health