Here are some ways to help your child get acquainted with a new school:
Do a little sleuthing at playgrounds and parks near the school to see if you can find a child who will be in the same classroom, grade, or school.
Ask parents, coaches, church groups, or the local Boys and Girls Club.
Get a class list (if possible) from the teacher and set up a playdate with a peer before school starts. You are only asking for the names of the kids -- not their addresses (which is confidential information -- but those names are great for discussions with your child throughout the year).
Ask neighbors for the name and address of a kid on the same bus route as your child.
Arrange a car pool so your child feels more secure to go to school with someone.
Volunteer to be the room mother, join the PTA, or offer to help the secretary so you can meet moms and dads. They may be able to introduce you to parents who have kids your child's age.
Teach your child the name of at least one adult to go to (in particular the nurse, secretary, principal, teacher) for help as well as where to find them.
Rehearse scenarios and role-play specific social problems, like how to meet someone, start up a conversation, ask if you can play in a game, or ask for help from a teacher.
Kids learn social skills best if you show and not tell them what to do so practice one new skill at a time until your child feels comfortable.
Continue Learning about Children's Health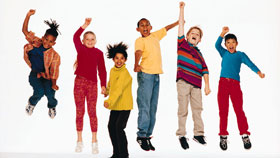 As a parent, you have questions about your kids' health. From common colds, lice, chickenpox and strep throat to eating disorders, obesity and learning disabilities, get the expert answers you need to raise a healthy child, tween, ...
or teen.
More