Ask your pediatrician for suggestions on how to explain a particular illness to your child. My general advice, which of course, depends on your child's age and maturity level and the specific condition you're dealing with, is to give your child the facts, but don't overwhelm her with details. Using simple terms that your child is capable of understanding, you may have to tell her that she's sick and will have to take medicine to breathe better. Or that she must now strictly watch what she eats and take daily medication to avoid becoming seriously ill from something called diabetes.
Whatever the diagnosis, make sure your child knows the illness is not her fault. (Even if it is partially due to persistent overeating or picking up a tick in the grassy lot where you forbade playing. Right now is not the time for an I‑told-you-so speech.) A lot of young kids think an illness is punishment for something they've done, so you need to dispel that thought as quickly as possible.
From The Smart Parent's Guide: Getting Your Kids Through Checkups, Illnesses, and Accidents by Jennifer Trachtenberg.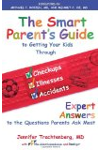 Continue Learning about Children's Health