In America we need to teach our children more about the behaviors that are expected out of them, not just what will happen when they misbehave.

STEP 1 – Teach your children about the family culture in which you live. "In our family we…"

STEP 2 – Write out all the positive behaviors you see in your home for 72 hours. This will be the "lake" in which your children fish when they need to find a more positive behavior. "I saw"

Someone help clear the table.

Put their toys back.

Put their laundry in the basket.

Offer to help out.

STEP 3 – Lift one another up. Comment on what your family members are doing well and ask for more of it.


Continue Learning about Children's Health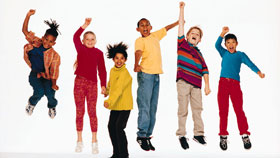 As a parent, you have questions about your kids' health. From common colds, lice, chickenpox and strep throat to eating disorders, obesity and learning disabilities, get the expert answers you need to raise a healthy child, tween, ...
or teen.
More