Due to the risk of errors when giving children liquid medication with kitchen spoons, doctors and different medical and pharmacy groups are pushing for new procedures for prescribing, dispensing and administering liquid medicine to children.

The U.S. Centers for Disease Control & Prevention (CDC), the American Academy of Pediatrics and the Institute for Safe Medication Practices recommend that doctors prescribe millimeter doses for children as opposed to prescriptions based on teaspoon or tablespoon measurements. They also recommend that pharmacists convert liquid prescription doses into precise volume measurements.
Continue Learning about Children's Health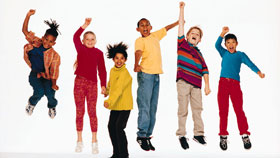 As a parent, you have questions about your kids' health. From common colds, lice, chickenpox and strep throat to eating disorders, obesity and learning disabilities, get the expert answers you need to raise a healthy child, tween, ...
or teen.
More