In the days, weeks, and months after "the talk" (it can make that birds-and-bees chat seem ho‑hum), your child may have some rough periods. Just like adults, kids need time to adjust to the prospect of being sick. Your child may feel sad, depressed, angry, afraid, or deny that anything's wrong. Some kids don't want to talk to their parents about their concerns. That's fine. Just keep an eye and ear open, and be ready for a chat when they do.
Children who have chronic illnesses often feel alone, different, and isolated, exactly the opposite of how most kids (and adults) want to feel. They just want to be kids and to be like their friends. Being around other kids with a similar condition can help a lot. That's another way hooking up with support groups can make a huge difference. Your child will benefit from knowing he's not alone, and he'll see how other kids are coping. Finally, remember that kids' thoughts and feelings about their illness change over time. You may want to gently remind your child that the two if you can talk anytime, now or in the future. If your child continues to be withdrawn or depressed, or isn't eating or sleeping well, much less talking, check with your pediatrician about getting professional counseling.
From The Smart Parent's Guide: Getting Your Kids Through Checkups, Illnesses, and Accidents by Jennifer Trachtenberg.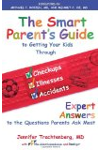 Continue Learning about Children's Health