Identifying problems and medical conditions, both acute and chronic, is what your child's doctor is trained to do. It's also her job to instruct and inform you how to prevent many health problems from taking hold in the first place.
By establishing an ongoing relationship with your pediatrician, going for regular visits, and listening to her advice as your child grows, you greatly increase the chances that she will become the healthiest adult she can be.
But, you're still in charge of the steps between visits. And, there's so much you and your child can do together every day to prevent certain health conditions. The downside of this is that it's tough to know where to start. Parents often tell me how overwhelmed they get with the dizzying amount of child health information and advice out there.
Your children look to you for guidance and support, so it makes sense that the responsibility of instilling in your child what you've learned at checkups goes to you. Although no parent wants to be a nag, kids need guidance and gentle reminders about rules, limits, and appropriate behaviors. Steering kids toward healthy habits and reinforcing these habits along the way will teach kids the principles of moderation, discretion, consistency, and self-discipline.
Over time, and with your help, your kids will develop their own sense of self-control and self-regulation, which will allow them to set healthy limits for themselves. These factors will go a long way in helping your kids avoid the avoidable and enjoy good health for years to come.
From Good Kids, Bad Habits: The RealAge Guide to Raising Healthy Children by Jennifer Trachtenberg.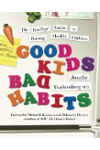 Keeping up with your child's routine health visits will allow your pediatrician to stay up to date with your child's development. It also helps the pediatrician to note any health concerns. During these visits, your child's pediatrician will discuss normal child development so that you can know what to expect and spot issues early. Prevention is often the best medicine, and maintaining good, routine pediatric care will allow you and your pediatrician to address concerns early before they become a potential problem. Since immunizations are also usually given as part of routine checkups, keeping up with the checkup schedule will guarantee that your child stays protected from vaccine-preventable diseases.
This answer was created with the help of physicians at South Riding Pediatrics (www.SouthRidingPediatrics.com) and www.HealthyChildren.org
Continue Learning about Children's Health