Calculation of the adjusted age for preemies is easy if you remember to just subtract the time the preemie would have spent in the mother's womb from the actual age of the baby. For example, if a premature baby born at 32 weeks is now 10 weeks old, the adjusted age would be 2 weeks old. Use 40 weeks as the end of normal gestation. Since the baby is 8 weeks premature and currently 10 weeks old, 10 weeks actual age, less 8 weeks of prematurity equals 2 weeks adjusted age.
Continue Learning about Children's Health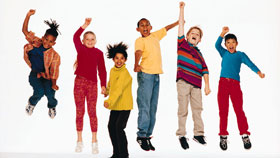 As a parent, you have questions about your kids' health. From common colds, lice, chickenpox and strep throat to eating disorders, obesity and learning disabilities, get the expert answers you need to raise a healthy child, tween, ...
or teen.
More