Here are seven common problems that both researchers warn us of and middle kids complain about from being sandwiched in between and parenting solutions for each hot-button issue. Middle children often report that they:

1. Feel less favored.

2. Feel overlooked and skimped on attention.

3. Hate to be compared.

4. Hide true feelings.

5. Feel tired of playing referee.

6. Always get the hand-me-downs!

7. Feel forced to follow siblings footsteps.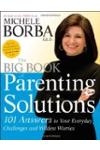 Continue Learning about Children's Health