Children learn from the examples we set for them. Demonstrating a healthy lifestyle for the children is the best way for children to learn how to live a healthy lifestyle. Teaching children at an early age the importance of healthy diets and active play are lessons that can stay with children for a lifetime.
The thing I tell most parents is that being healthy together as a family will lead to a healthier lifestyle for their child. So doing things to remain active as a family, like going on walks together, is important.

Also, having parents make good health choices with what they eat will show their children what good health choices are. Parents should be trying to give their children 4 to 5 servings of fruit and vegetables per day. The more the parents eat their fruits and vegetables, the more likely the kids will eat them as well.

Limiting soda and juice in the house is also important. Both soda and juice contain a lot of sugars that kids don't need. Most kids should be drinking 2 to 3 glasses of milk per day, and the rest of the time they should be drinking water. If you offer these things to your kids when they are little, they will have a healthier lifestyle when they are older.
The best way to help a child develop a healthy lifestyle is for the parents to set a good example. Consumption of a healthy diet and emphasis on regular physical activity should be an important part of normal family activities. In addition, parents should insist that these healthy habits be emphasized at school as well.
Continue Learning about Children's Health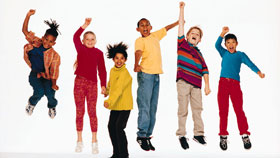 As a parent, you have questions about your kids' health. From common colds, lice, chickenpox and strep throat to eating disorders, obesity and learning disabilities, get the expert answers you need to raise a healthy child, tween, ...
or teen.
More