What parent wouldn't want children who paddled against the stream, stood up for themselves, and didn't allow themselves to be influenced by their peers? An independent child may be a parent's dream, but it's often not a reality. Peer pressure is a natural part of childhood, and although it's thought of mainly as a problem for only adolescents, it can begin as early as kindergarten.
It's easy to forget that sometimes peer pressure is a good thing. Your child may be influenced to join a sports team or a school club because "everyone is doing that." A good friend may inspire your child to study more, pick up a hobby, or finish homework before playing outside.
From Good Kids, Bad Habits: The RealAge Guide to Raising Healthy Children by Jennifer Trachtenberg.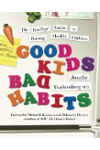 Continue Learning about Children's Health