We're seeing an upsurge -- even in a recession -- of kids who are a bit too spoiled, a bit too unappreciative, and a bit more ungrateful for all the good things life has to offer. In all fairness, there are a number of factors that curtail our kids from being appreciative about the good things of life.

For starters: a relentless consumption-driven media that pushes kid to think they need more and a fast-paced lifestyle that leaves little time to help kids count their blessings. There is the also the sometimes overwhelming impact of troubling news that focuses on the bad parts of life instead of helping kids appreciate the good.

Sometimes it's our guilt for not being home enough or those competitive instincts that compel us to keep up with the Jones, so we lavish our kids with the latest and best of everything.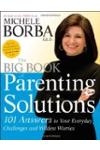 Continue Learning about Children's Health