Exposure to germs is an inevitable part of life, and exposure to germs early in life aids in the proper development of a child's immune system. In fact, lack of exposure to germs in excessively clean environments has been linked to allergic diseases such as asthma and eczema, and autoimmune diseases such as type 1 diabetes, all of which involve improper functioning of the immune system. On the other hand, some germs can cause severe or even life-threatening illness in young children. Keeping your child up to date on his/her vaccinations helps to prevent most life-threatening illnesses. If your child is too young for some vaccinations (e.g., influenza), you and other household members can protect your child by vaccinating yourselves. Avoiding close contact with people who are ill and teaching your child proper hand washing before eating and after using the restroom are additional ways to protect your child.
Germ is an umbrella term for a range of tiny living organisms, which are also called microbes. It includes bacteria, viruses, and fungi. Along with other funky microscopic creatures, like protozoa, germs have the ability to cause illness or infection. But not all germs are the enemy; more than 95% are harmless. In fact, most are on your child's side, working hard to keep her in good health.
Microbes in the intestinal tract help your child digest food, and regular exposure to other germs actually helps the body build immunities that keep them healthy. And some experts, including me, feel that some germs are important in building a strong immunity to such things as allergens.
Germ describes many types of tiny living organisms. Some cause illness but most do not and may even be helpful.
From Good Kids, Bad Habits: The RealAge Guide to Raising Healthy Children by Jennifer Trachtenberg.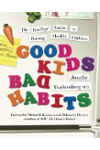 Continue Learning about Children's Health