In this video, Lisa Western, BSN, DNP, with Millcreek Primary Care, dispels misconceptions about intrauterine devices (IUDs), including related to infection, fertility and more.
Common misconceptions about intrauterine devices (IUDs) are they can lead to infertility, and only women who have had babies before should use them. Watch OBGYN specialist Evelyn Minaya, MD, dispel these myths and explain the benefits of using IUDs.
Continue Learning about IUD (Intrauterine Device)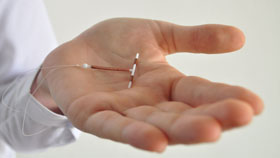 An intrauterine device (IUD) is a T-shaped birth control device made out of plastic or copper and placed inside the uterus by your OBGYN. IUDs work by causing inflammatory responses in the uterus that prevent sperm from moving eas...
ily to unite with an egg. IUDs are very effective (up to 98%) at preventing pregnancy, but will not prevent STDs.
More