When you hear your doctor say that all your tests are normal and that your condition is functional or psychosomatic, as in the case of an irritable bowel syndrome (IBS) diagnosis, you may misunderstand your doctor to be saying that:
Your symptoms are not real.
You are just stressed out.
You must have a mental illness or serious psychological problem.
There may be a serious disease present that your doctor just can't identify yet.
Now that there is a diagnosis, taking some pills or a couple of shots should cure you.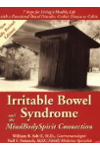 Continue Learning about Irritable Bowel Syndrome (IBS)