Irritable bowel syndrome (IBS) patients frequently turn to alternative or complementary therapies ranging from herbal remedies to meditation.

Relaxation response training and meditation. Simple and easy to learn, these techniques help reduce nervous system activity and relax muscles. Therapies that induce a similar response include progressive muscle relaxation, guided imagery, hypnosis, and even biofeedback.

Yoga. Some forms of yoga, the ancient Indian discipline that seeks to bring body and mind into balance, have proved valuable to some IBS sufferers. Yoga, like meditation, can provide a form of self-relaxation.

Hypnosis. Increasing evidence suggests that this mind-relaxation technique calms the autonomic nervous system and might contribute to improvement in symptoms.

Acupuncture. This system of applying small needles to prescribed points on the body has been used for treatment of IBS symptoms. But a review of studies on the topic by the international Cochrane Collection said the quality of the studies was too poor to draw any conclusions.

Biofeedback. Biofeedback is a mind-body technique in which participants use a biofeedback machine to see and learn to control their body's response to stimuli such as pain. Some patients who periodically lose control of their bowels, for example, have been able to improve their control using biofeedback techniques.

Herbal remedies. A growing number of people are turning to herbal remedies for the relief of IBS symptoms, including St. John's wort, fish oils, flaxseed oil, aloe vera juice, chamomile tea, and a variety of Chinese herbs. However, the number and quality of studies to support the safety and effectiveness of such remedies is lacking. One possible exception is peppermint oil. Investigators reported that 75% of the patients in their study who took peppermint oil capsules for four weeks had a major reduction in their IBS symptoms, compared with just 38% of those who took a placebo pill. Peppermint oil may work by blocking calcium channels, thereby relaxing smooth muscles in the walls of the intestine. Some evidence has emerged for the use of Chinese herbal preparations, but once again, the quality of the studies is not sufficient to recommend this therapy. Because most herbal preparations do not undergo rigorous scientific study, be alert to the possibility of unexpected side effects if you take an herbal remedy.
There are several alternative treatments for irritable bowel syndrome. The deep relaxation produced by hypnosis may help relieve abdominal bloating and pain. Acupuncture may help to enhance bowel function and reduce muscle spasms. Managing stress through massage, yoga, meditation, or exercise can also help to relieve your symptoms. Probiotics - "good" bacteria found in yogurt and supplements - may be helpful. Supplemental peppermint oil, which has antispasmodic properties, may provide short-term relief. Before taking any supplements, consult with your doctor.
Watch as Naturopathic Doctor and Licensed Acupuncturist Dr. Pina LoGiudice shares some natural treatments for irritable bowel syndrome (IBS).
Continue Learning about Irritable Bowel Syndrome Treatment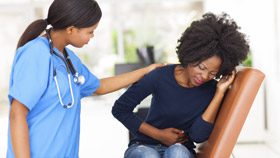 Irritable bowel syndrome (IBS) can be controlled with lifestyle changes, dietary changes and medications. Your healthcare provider may suggest an elimination diet to pinpoint foods that trigger IBS. Prescription medications can he...
lp to regulate your bowels and relieve pain. Complementary and alternative treatment approaches include hypnotherapy, meditation, acupuncture and cognitive behavioral therapy.
More