If you suffer from the symptoms of irritable bowel syndrome (IBS), the most important thing for you to know is that there is hope. Though there is still no cure for IBS, dramatic healing is possible due to new understandings in mind-body-spirit medicine. This new multidisciplinary field of study draws upon the expertise of immunologists, physiologists, research scientists, psychiatrists, psychologists, clergy, neurobiologists, behavioral medicine specialists and others. Due to advances in mind-body-spirit medicine, relief from - and resolution of - many of your symptoms is now within your reach.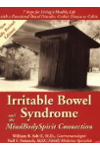 There is no cure for IBS (Irritable Bowel Syndrome). Part of the reason for this is that we are not exactly sure what causes it and the syndrome is different for each person. Some people experience diarrhea, constipation, or both. Most IBS patients complain of bloating and abdominal pain. It is important to know if you truly have IBS since there are serious diseases such as inflammatory bowel disease and colon cancer that can have some of the same symptoms.
There are treatments that can ease the symptoms. These include a diet free of milk products and caffeine, high in fiber, and adequate hydration with water. For the diarrhea or constipation symptoms there are a variety of medications available.

In my practice I have found that mind body therapies to reduce stress such as yoga, meditation, and hypnosis have been extremely helpful. In addition, cognitive behavioral therapy to help patients manage stress in their lives can also be very useful.


Since the cause of irritable bowel syndrome is not entirely understood, there is no cure for it. The symptoms, however, can be controlled with lifestyle changes, dietary changes, and medications. Consult with your doctor for treatment options.
Continue Learning about Irritable Bowel Syndrome Treatment