To know whether the diet is working, keep accurate records. Review the records and compare the irritable bowel symptoms (IBS) you were experiencing at the baseline (before the diet) to the symptoms you experienced during weeks one and two of the diet. If the elimination is working, there should be a noticeable drop in the number and type of symptoms you experience; the numbers should have declined. The extent to which you benefit from the diet is ultimately your decision, using these numbers as a guide. You are the one who decides whether FODMAPS carbohydrates are the source of your irritable bowel syndrome (IBS) symptoms. You will come to one of two conclusions:
Your symptoms have improved markedly: If you decide that your symptoms have improved markedly, you should continue on to the challenge phase of the FODMAPS Elimination Diet.
Your symptoms have not improved or have only improved a little: If you follow this FODMAPS Elimination Diet faithfully and carefully for several weeks and you are still no better, it might be helpful to write down everything you eat and drink for a few days. Ask someone else to review the diet record with you and compare it to the allowed food lists, looking for unintentional sources of FODMAPS in the diet.

Have you been making exceptions for any reason? Unfortunately, exceptions will ruin your experiment. During the elimination phase you should not make any exceptions at all. If you find your diet wasn't as FODMAPS free as you had hoped, you may wish to continue the elimination phase for another week or two.

You may be aware of other possible factors that held back potential improvement in your symptoms, such as a particularly stressful week or a viral illness. If that is the case, continue the elimination phase for another two weeks and reassess.

If your diet has, indeed, been FODMAPS free for two weeks, and there are no other special circumstances to explain two weeks of continued symptoms, there is probably little to be gained by continuing. At this point, you should talk to your dietitian or doctor about other options.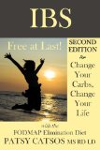 Continue Learning about Irritable Bowel Syndrome Treatment