Antidepressants are sometimes prescribed to treat irritable bowel syndrome (IBS) pain. It's not entirely clear whether the ability of antidepressants to relieve pain works independently of their ability to treat depression, or if the mechanism of action in IBS is related to the drugs' effects on mood. Medications such as amitriptyline (Elavil, Endep) and desipramine (Norpramin) may be prescribed at low doses for patients who have pain-predominant IBS. Because these tricyclic antidepressants can cause constipation, they should be used only by patients who have diarrhea- or pain-related IBS symptoms.

Selective serotonin reuptake inhibitors (SSRIs), such as fluoxetine (Prozac), do not control pain as effectively as the tricyclics, but they have become more popular for treatment of IBS because they tend to cause fewer side effects. SSRIs help to relieve the anxiety and depression that is sometimes associated with moderate or severe IBS, so they may be a good treatment option for IBS patients who also have those psychological diagnoses.
Antidepressants are commonly prescribed for irritable bowel syndrome (IBS) and other functional gut and bodily symptoms and syndromes, even though the Food and Drug Administration (FDA) does not specifically approve them for this purpose unless depression is present. This is called an "off-label" indication. Nevertheless, antidepressants can be helpful in bringing symptom relief in IBS and other functional syndromes, such as fibromyalgia. If depression is present, then a full antidepressant drug dose is necessary. If depression is not present, then lower doses may be effective.

At Digestive Disease Week (a gastrointestinal doctor's conferance) in Atlanta, Georgia, University of North Carolina gastroenterologist Douglas A. Drossman said that, "The use of antidepressants in IBS and other gastrointestinal (GI) disorders is growing." When symptoms become repetitive, severe and/or are associated with alteration in quality of life, antidepressant drugs can be considered. Antidepressants have effects on gut motility (contractions) and sensation and also may have pain modulatory benefits. Antidepressant drugs are not addictive.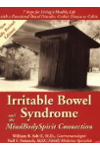 Continue Learning about Irritable Bowel Syndrome Treatment