The stomach pain and discomfort associated with irritable bowel syndrome (IBS) are usually located in the lower abdomen below the belly button. Most commonly, the pain occurs in your lower left side, but the pain can actually occur anywhere in the abdomen. The pain can be dull, sharp, cramping or constant. Typically, but not always, it can be relieved by having a bowel movement or passing flatus (gas). Often, people notice that they have more frequent or looser bowel movements when they are having trouble with the pain. Others notice the pain more when they are constipated. Some note that pain is worsened with defecation. The pain can be referred into other bodily locations, which can be a source of confusion for patients and doctors. Common referral areas are the chest, pelvis or legs.
Some people with IBS have sudden attacks of abdominal pain that can be so severe that they visit a doctor immediately or go to the emergency room. IBS is a common cause of brief hospital admissions for observation and evaluation of abdominal pain.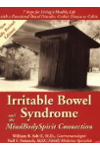 Distension, or swelling, of bowels is what triggers pain symptoms with irritable bowel syndrome (IBS).
Continue Learning about Irritable Bowel Syndrome Symptoms