Unfortunately, terms like "functional," "psychosomatic" and "somatization" are often misconstrued to mean that the symptoms are "all in your head," phony or imagined. The truth is that the symptoms of irritable bowel syndrome (IBS) are very real. In fact, virtually everyone experiences one or more functional symptoms from time to time. Even mind-body medicine researcher and writer Robert Sapolsky reports intermittent disruptive symptoms. He says, "Personally, all the major rites of passage in my life have been marked by pretty impressive cases of the runs a few days before - my bar mitzvah, going away to college, my doctoral defense, proposing marriage, my wedding, the day my wife gave birth to our son."

However, some people have symptoms that are frequent, constant and severe, and which cause them to consult with doctors. Their symptoms begin to affect every area of their lives. The suffering is enormous. What is going on here? What is the common denominator?

The answer is that the problem is not "all in your head," but is related to the connection between your mind, body and spirit. The mind, body and spirit act together as a system. A disturbance in one causes disturbances in the other two. They contribute together to your level of wellness. You can think of them as a mobile hanging in delicate balance. When you touch or disturb one arm of a mobile, changes are set in motion that affect every other arm of the mobile. Eventually, you hope, the mobile regains its balance. But, sometimes, in the mind-body-spirit relationship, the disturbance is too much. The mind-body-spirit mobile cannot regain its balance. When that happens, illness occurs. And for some people, that illness is diagnosed as irritable bowel syndrome.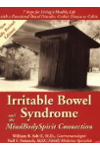 Continue Learning about Irritable Bowel Syndrome Symptoms