The most commonly reported side effects of interferons are injection-site reactions: pain, redness, bruising, and swelling; rarely, skin necrosis (death of tissue). Other adverse events are flu-like symptoms (muscle pain, fatigue, malaise, headache, fever and chills), elevated liver enzyme levels, mild white blood cell abnormalities, and depression. Flu-like symptoms tend to stop occurring after the first year of use. Concomitant medication (acetaminophen or a non steroidal anti-inflammatory drug) can prevent and/or treat these symptoms. The non steroidal anti-inflammatory drug (NSAIDs) should be used at the time of injection, then several hours later if any flu-like symptoms are noted. Other helpful measures are to build up the interferon dose gradually and early evening dosing (so the person is sleeping when the interferon dose peaks in eight to ten hours). No long-term safety concerns have emerged after sixteen years of treatment with interferon beta medications. However, blood counts, liver function tests, and thyroid function tests should be performed regularly.
There is an increased frequency of depression, even suicidal thoughts. Patients should report such symptoms immediately and cessation of therapy should be considered. The effectiveness of interferon beta may be compromised by its potential to produce neutralizing antibodies which can diminish the effect on relapse rates and on magnetic resonance imaging (MRI) measures of disease activity. Thus testing for neutralizing antibodies should be part of the management of multiple sclerosis (MS) patients on the interferons.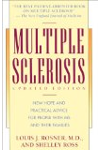 More About this Book
Multiple Sclerosis
Too often, multiple sclerosis is thought of only as "the crippler of young adults." But in fact, 75 percent of all people with MS will never need a wheelchair. In Multiple Sclerosis, Dr. Louis J....
Continue Learning about Interferon