Complementary, alternative, and integrative medicine is the use of treatments, such as homeopathic medicine, ayurveda, acupuncture, botanical dietary supplements, and massage, that are not necessarily considered part of "conventional" medicine. Such treatments may be used in conjunction with more accepted medicine (complementary and integrative medicine) or instead of established medical practices (alternative medicine).
In North America, holistic health care practices are usually referred to as complementary and alternative medicine (CAM). Complementary health practices include both practitioner-administered therapies, such as acupuncture, chiropractic, and massage, and self-care practices, such as meditation and visualization.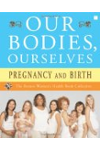 More About this Book
Our Bodies, Ourselves: Pregnancy and Birth
ALL THE INFORMATION YOU NEED TO MAKE WISE DECISIONS ABOUT YOUR PREGNANCY AND THE BIRTH OF YOUR CHILD -- FROM THE EDITORS OF THE CLASSIC "BIBLE OF WOMEN'S HEALTH" Pregnancy and birth are as ordinary...
Continue Learning about Integrative Medicine