A hormone called insulin is the oldest of the diabetes injectables, and it now comes in a variety of flavors. Insulin comes in basal, and fast-acting types.

There are two basal insulins: Lantus and Levemir. Although they differ chemically, the net result is the same: this is a once a day shot for most people. The effect of the insulin lasts for approximately 24 hours. Lantus is the older of the two. Each little super-micro drip of the Lantus insulin is wrapped in bubble wrap. Once in your body, the bubble wrap begins to dissolve, releasing the insulin into your system a little at a time.

Fast-acting insulins currently come in three varieties: Humalog, NovoLog, and Apidra. All three are made by different manufacturers, but are very similar. Certain individuals will often find that one or the other works better for them, but they are to a very large degree interchangeable. After injection, fast-acting insulins peak in two hours, and are gone from your system in 4-6 hours in most folks. They are designed to be taken with meals to knock down the excursion and help the body metabolize the carbs from the meal. This is one reason why the two-hour-after-you-eat blood sugar check is so important.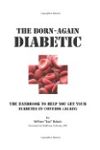 Continue Learning about Insulin