There could be many reasons why a wound is not healing. I would definitely see a health care provider for any wound that does not heal, or does not heal in a timely manner. With that said, some the reasons might have to do with infection, high blood sugar, inadequate protein intake (diet), incorrect treatment, certain medications (steroids), or for a variety of other medical reasons. First, see your health care provider; he or she can help with this problem.
Continue Learning about Injuries, Wound and Trauma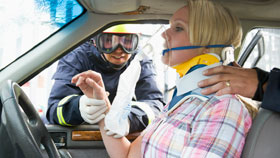 The normal course of daily living ensures that at some point we will injure ourselves. The body is great at healing minor injuries, and first-aid basics will help keep injuries from becoming serious or infected. As we move up to m...
ore serious injuries, again knowing what to do first is important, even if follow-up care must be done by a medic or hospital emergency room. It's always better to prevent injury if you can. Pay attention to hazards that can cause falls. In the kitchen use cutting blocks and sharp knives - they are safer because you use less pressure while cutting.
More