Heat-related illnesses, including heat exhaustion, affect nearly six million people each summer, so it's important to know the warning signs.

Heat exhaustion is a common outcome from being out in the sun too long. It has a slow onset with profuse sweating, and you will start getting weak and dizzy -- a sign of dehydration. You need to get to a cool environment, raise your feet and drink a sport drink to replace electrolytes and the fluids you've lost.

Even more dangerous than heat exhaustion is heat stroke, which is different from what you may suspect. Symptoms include a redness of the face, but no sweating. Heat stroke is a medical emergency and needs to be handled by medical emergency personnel. That's the time to call 911.
Anyone suffering from heat exhaustion should stop what they are doing and move (or be moved) to a cool environment, such as a building or car with air conditioning. They should be rehydrated with water, and if needed, cooled with fans, ice packs, or cold towels. Seek medical attention for heat exhaustion if the symptoms do not improve or if they worsen.
(This answer provided for NATA by the Marist College Athletic Training Education Program.)
Continue Learning about Injuries, Wound and Trauma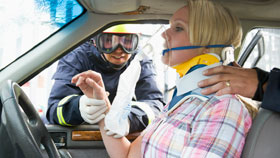 The normal course of daily living ensures that at some point we will injure ourselves. The body is great at healing minor injuries, and first-aid basics will help keep injuries from becoming serious or infected. As we move up to m...
ore serious injuries, again knowing what to do first is important, even if follow-up care must be done by a medic or hospital emergency room. It's always better to prevent injury if you can. Pay attention to hazards that can cause falls. In the kitchen use cutting blocks and sharp knives - they are safer because you use less pressure while cutting.
More