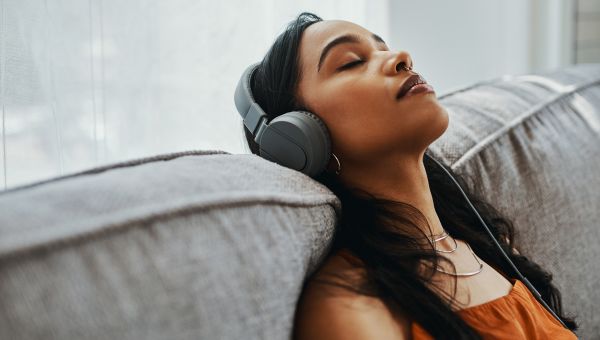 Try these strategies for coping with overwhelming amounts of information during the COVID-19 pandemic.
One of the challenges of living in the new normal of the COVID-19 pandemic is the overwhelming amount of information. At various times during the pandemic, many people have found themselves spending hours or even days scrolling through news articles and social media feeds.
People who are living with chronic health conditions like inflammatory bowel disease (IBD) or other autoimmune conditions may find themselves searching for articles and information on how the coronavirus may impact them specifically—Are they at a greater risk of serious illness? Will the treatments they are using put them at a greater risk of becoming infected?
Several publications have referred to this overwhelming amount of information as the "infodemic."
While it is good to stay informed, too much time spent consuming news or social media can lead to feeling overwhelmed, feeling stressed, and feeling anxious—feelings that you want to avoid at all times (especially considering that stress is a possible trigger that can worsen symptoms or cause flares in people who have IBD).
If you find that you are feeling overwhelmed, are having a hard time looking away from the news, or want to ensure that the information that you are consuming is accurate, here are some habits that may help.
Limit your consumption of news. The Anxiety and Depression Association of America recommends limiting the amount of time you spend looking at the news—for example, limiting news consumption to a 30-minute block of time, twice a day.
Log off well before your bedtime. Quality sleep is important to overall health, especially when managing a condition like IBD. Make sure your 30-minute blocks are not close to your bedtime. Blue light from computers and smartphones blocks melatonin secretion (melatonin is a hormone that induces sleep). Choose a specific time to shut off screens every night to help regulate your sleeping schedule. You may also want to consider a blue light blocker or nighttime settings on your phone.
Keep in touch with your healthcare provider. Your healthcare provider is a valuable ally during the pandemic. IBD is a different experience for everyone and your best source of information is your healthcare provider. If you have questions or concerns about your risk of COVID-19 infection, what you should be doing to keep yourself safe, and/or if your treatment for IBD carries additional risks during the pandemic, contact your healthcare provider. Do not make any changes to your treatment unless directed to by your healthcare provider.
Make time to de-stress. The pandemic has been a stressful time. As mentioned above, stress is not good for your health. Set aside some time each day for an activity that makes you feel calm. This can be a mindfulness activity like meditation or yoga, or it can be something as simple as listening to music, reading a book, enjoying a hobby, or calling a friend that makes you laugh.
Stay connected with friends and family. Also make time to connect with the important people in your life—especially those who make you laugh, make you feel less stressed, and those who may be struggling during this difficult time. One of the major upsides of our always-connected society is that staying in touch is easier than ever.
Take care of your overall health. This includes both your mental and physical health. Stay on track with your treatment for IBD and make time to exercise, eat well, and maintain healthy habits. If you find yourself struggling with negative emotions and moods, talk to your healthcare provider about what you are feeling and consider participating in an online support group for people with IBD.
As mentioned above, your healthcare provider can be a valuable ally when managing IBD during the pandemic. If you have concerns about going to a healthcare office during the pandemic, consider asking your provider if they offer telehealth appointments.
Medically reviewed in February 2021.
Sources:
Hongfei Liu, Wentong Liu, Vignesh Yoganathan, and Victoria-Sophie Osburg. "COVID-19 information overload and generation Z's social media discontinuance intention during the pandemic lockdown." Technological Forecasting and Social Change, 2021. Vol. 166, No. 12.
Taher S. Valika, Sarah E. Maurrasse, and Lara Reichert. "A Second Pandemic? Perspective on Information Overload in the COVID-19 Era." American Academy of Otolaryngology–Head and Neck Surgery, 2020. Vol. 163, No. 5.
Centers for Disease Control and Prevention. "What is inflammatory bowel disease (IBD)?"
Crohn's and Colitis Foundation. "COVID-19 (Coronavirus): What IBD Patients Should Know."
Kathy Katella. "A COVID-19 'Infodemic'? How to Make Sense of What You're Reading." Yale Medicine. April 13, 2020.
Farooq Azam Rathore and Fareeha Farooq. "Information Overload and Infodemic in the COVID-19 Pandemic." Journal of Pakistan Medical Association, 2020. Vol. 70, Suppl. 3.
Eric Goodman. "A Compassionate Guide to Anxiety During the COVID-19 Pandemic Part 1: Understanding Why We Are so Anxious Right Now." Anxiety & Depression Association of America. April 20, 2020.
Yue Sun, Lu Li, et al. "Stress Triggers Flare of Inflammatory Bowel Disease in Children and Adults." Frontiers in Pediatrics, 2019. Vol. 7, No. 432.
Aarti Gupta. "COVID-19 Lockdown Guide: How to Manage Anxiety and Isolation During Quarantine." Anxiety & Depression Association of America. March 16, 2020.
Piedmont Healthcare. "How the Internet affects your mental health."
Crohn's & Colitis UK. "Coronavirus (COVID-19): What your risk means for you."
Crohn's and Colitis Foundation. "COVID-19 & IBD Medication."
Centers for Disease Control and Prevention. "Coping with Stress."