How is inflammation diagnosed?
Inflammation can be measured by markers in the blood. C-reactive protein is often present during inflammation and can also be used to predict inflammatory diseases like heart problems. Other inflammatory diseases can be diagnosed by doctors who have studied your medical history and performed a physical exam that included a discussion of painful joints, stiffness, and any other inflammatory symptoms.
Continue Learning about Inflammation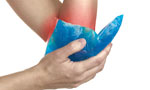 Inflammation is your body's natural defense against dangers like bacteria, viruses, irritants, toxins and physical trauma. You usually feel inflammation as swelling, redness, heat and pain. When inflammation runs rampant, it can d...
isrupt your immune system and lead to a variety of chronic diseases. Learn more about inflammation from our experts.
More