Although inflammation is part of our bodies' natural defense mechanisms against foreign invaders such as bad bacteria, viruses, and toxins, too much inflammation can be harmful. When inflammation runs rampant or goes awry it can disrupt your immune system and lead to chronic problems and/or disease. It's like having your furnace turned on to keep you warm and comfortable; but if that furnace doesn't turn off once a certain temperature is reached, then your environment is going to get hot, uncomfortable, and dangerous. Soon enough, things in that environment will start to become adversely affected.

Volumes of international research prove just how insidious chronic inflammation can be on the body. Researchers are discovering bridges between certain kinds of inflammation and our most pernicious degenerative diseases today, including heart disease, Alzheimer's disease, cancer, autoimmune diseases, diabetes, and accelerated aging in general. Virtually all chronic conditions have been linked to inflammation, which, put simply, creates an imbalance in your body that stimulates negative effects on your health and, as such, your energy.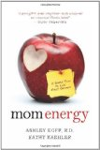 More About this Book
Mom Energy: A Simple Plan to Live Fully Charged
       From celebrated dietitian Ashley Koff and fitness trainer to the stars Kathy Kaehler comes Mom Energy, an exciting new way for moms to tap into their own natural and renewable sources of...
Continue Learning about Inflammation