Body-wide inflammation isn't just bad for your arteries. More and more evidence shows that inflammation can fuel brain changes that mildly or majorly affect mood. In fact, inflammation may explain the link between depression's low moods and major-league health issues, such as heart disease. A steady diet of burgers, fries, and sugary baked goods laced with salt boosts depression risk by 51% -- perhaps because these foods fuel inflammation. Instead, pile your plate with fruits, veggies, and the good fats found in nuts (walnuts and macadamia nuts especially), olive oil, and fish (e.g., salmon or trout).
Continue Learning about Inflammation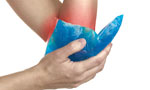 Inflammation is your body's natural defense against dangers like bacteria, viruses, irritants, toxins and physical trauma. You usually feel inflammation as swelling, redness, heat and pain. When inflammation runs rampant, it can d...
isrupt your immune system and lead to a variety of chronic diseases. Learn more about inflammation from our experts.
More