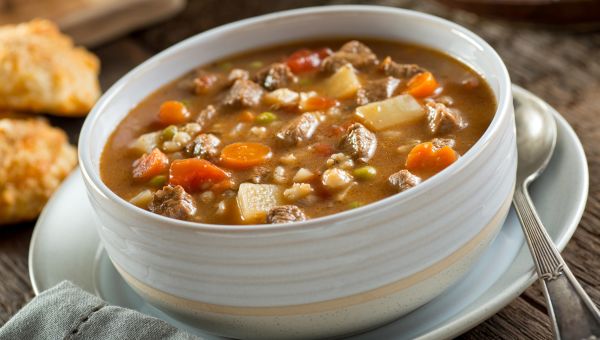 Made from everyday ingredients, this soup is loaded with immunity boosters. Make sure to add this hearty soup to your recipe collection.
Ingredients
1 cup carrots, chopped
1 cup celery, chopped
1 rosemary twig
1 clove garlic, finely sliced
3/4 cup hulled barley
4 cups low sodium vegetable broth
1 can crushed tomatoes (28 oz)
1 can beans, drained and rinsed (15 oz)
2 cups kale, roughly chopped
Grated Parmesan
Directions
In a pot, sauté onions, carrots and celery with extra virgin olive oil. Add the rosemary, garlic and barley and continue cooking for about 3 more minutes.
Stir in the broth and bring to a boil. Once boiling, cover the pot, reduce heat and simmer on low for about 1 hour.
Add in the tomatoes and beans and cook another 15 minutes or longer, until the barley is soft. If using kale, stir it in the last 5 minutes of cooking. Serve topped with grated parmesan.
This recipe orginally appeared on DoctorOz.com.
Note for all recipes in this health guide: If you have a disease that is actively affecting your digestion, you may need to avoid spices, high-fiber foods and raw vegetables. Be creative and adapt recipes to your needs.
Medically reviewed in October 2018.