Try this flavorful and heart-healthy seafood dish for your next meal!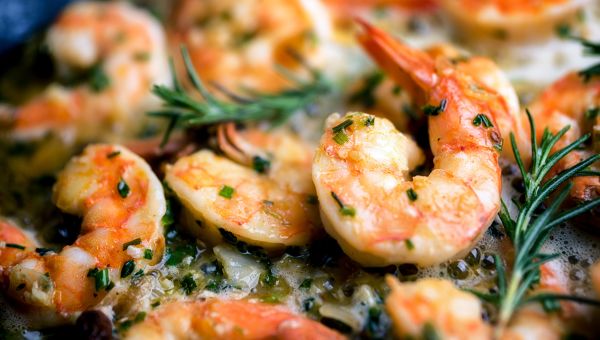 Ingredients
12 jumbo shrimp, washed and deveined
4 oz cherry tomatoes, halved
2 oz coriander, chopped
1 tbsp oregano, chopped
1 tsp garlic, chopped
1 tsp ginger, chopped
1 small shallot, chopped
2 tbsp olive oil
2 tbsp light soy sauce
1 oz white wine
1 tbsp unsalted butter
Salt and pepper to taste
Directions
Slice shrimp in halves butterfly style without cutting through and place on a plate.
Sprinkle coriander, oregano, salt and pepper to taste.
Add olive oil to a large skillet, over medium heat.
Add shallots, ginger and garlic to skillet and stir.
Place the shrimp face down in the skillet and sauté for 2 minutes on each side.
Remove shrimp and place in warm oven heated at 250°F.
Add the remaining flakes of coriander and oregano into the skillet.
Then add the cherry tomatoes and soy sauce and stir for 1 minute.
Remove shrimp from oven and place into pan, add the butter and let sizzle.
Drizzle white wine over shrimp. Serve with rice or mashed potatoes.
Grilled Garlic
Cut whole garlic bulb in half, then grill face down, or sauté in a pan with a dash of canola oil until it softens.
This recipe originally appeared on DoctorOz.com.
Note for all recipes in this health guide: If you have a disease that is actively affecting your digestion, you may need to avoid spices, high-fiber foods and raw vegetables. Be creative and adapt this recipe to your needs.
Medically reviewed in October 2018.