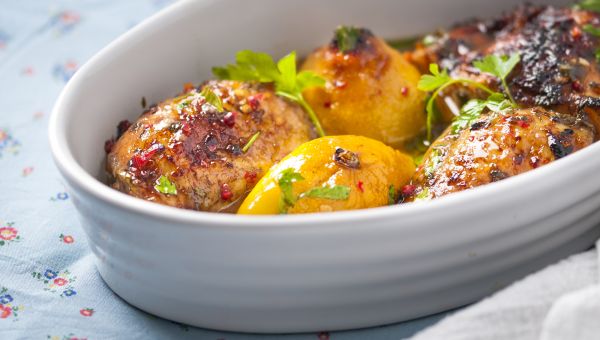 Garlic and olive oil both have wonderful health benefits, especially when paired together. The resulting organosulfur and hydroxytyrosol compounds may have anti-carcinogenic and cardio-protective effects. Studies suggest they can help decrease serum levels of glucose, triglycerides and cytokines. These antioxidants have been shown to help prevent and improve metabolic syndrome and decrease oxidative stress (particularly in liver and muscle tissues.) This recipe combines garlic and olive oil together, helping to create these health benefits. Plus, packed with 12 grams of protein, this tasty dish is one you won't want to miss.
Ingredients
1 1/4 cups water
1 1/2 tsp vegetable base
2 tsp arrowroot
2 tsp cold water
10 oz chicken breast
1/2 tsp salt
1/4 tsp black pepper
2 1/4 tbsp extra virgin olive oil
1/2 cup whole-wheat flour
1 tsp garlic
1 tsp parsley
1 tbsp lemon juice
Directions
For sauce base:
In small saucepan bring 1 1/4 cup water to a simmer and then add vegetable base to make a stock.
In a small bowl combine arrowroot and cold water to make slurry and whisk into boiling stock until stock begins to lightly thicken and remove from heat.
For chicken:
Trim away any visible fat, silver skin and cut each chicken breast into three equal size pieces. Then place chicken between cellophane lightly pound with mallet to about 1/3-inch thickness. Season chicken with salt and pepper and set aside.
In a 12-inch non-stick sauté pan add 2 tablespoons oil and heat. Dredge or light coat chicken with flour and place into heated oil and sauté on medium heat until juices begin to rise to top of chicken, about 2 minutes, then turn over with rubber high-temperature spatula and sauté on other side about one minute.
Add garlic, pour one teaspoon olive oil over garlic, spread out and sauté until garlic begins to turn light golden in color. While garlic is sautéing add parsley.
Add lemon juice and sauce right at the time the garlic begins to color. Shake pan and allow all the ingredients to mix, deglazing bottom of pan for no more then 30 seconds as further cooking in the sauce will toughen and dry out the chicken.
After the 30 seconds, remove the chicken to a side plate and continue to simmer the sauce to reduce until desire consistency. Remove pan from heat, add chicken back to pan to warm, then place chicken on plate and pour sauce over and serve with your favorite side dish.
This recipe originally appeared on DoctorOz.com.
Note for all recipes in this health guide: If you have a disease that is actively affecting your digestion, you may need to avoid spices, high-fiber foods and raw vegetables. Be creative and adapt this recipe to your needs.
Medically reviewed in October 2018.