Handwashing is the best way to easily prevent the spread of infections in the hospital. Children in the hospital most likely have weekend immune systems. Without proper handwashing, your care team can easily transfer infections from one child to another as they care for multiple patients. Just as there is a high susceptibility for kids to catch an illness from other kids at school or in daycare, it is even more likely that they could catch something in a hospital. You, your visitors, and your care team need to be very careful to wash appropriately with water and soap before touching or caring for your child.
First of all, your child is already vulnerable to the garden variety bacteria and viruses that all humans spread during physical contact, and even ordinary bugs can be deadly when a child is already weakened by illness. Second, hospitals are filled with powerful germs that can cause severe, difficult-to-treat infections. Probably the most famous is MRSA (methicillin-resistant Staphylococcus aureus), which is a much hardier variation of the common "staph" bacterium. Unlike typical staph—which can also be deadly to very ill patients—MRSA has developed a resistance to so many antibiotics that doctors have a hard time killing it. That's why it's often called a superbug. MRSA is rampant in hospitals, nursing homes, and other health care centers where people have weakened immune systems. Frighteningly, MRSA infection rates in hospitals are rising throughout the world.
From The Smart Parent's Guide: Getting Your Kids Through Checkups, Illnesses, and Accidents by Jennifer Trachtenberg.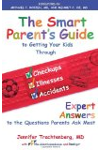 Continue Learning about Infectious Disease