An allergist will pinpoint the cause of allergy and treat it specifically. For instance, perhaps an allergy to ragweed in the Northeast region of DC, and northern Virginia needs treatment in August alone. This eliminates unnecessary medications and anxiety. If the allergy is epoxy or nickel, a quick patch test and simply eliminating these items from jewelry or the environment will stop the problem. A few quick visits to the allergist for testing will answer your questions, give you peace of mind, and give you hours/days/months/years of healthy, worry-free time doing the things you love and enjoy.
There's a good reason to go to a pediatric allergist for your child's allergies, not just a regular adult allergist. Apart from the differences in the way the allergic diseases present themselves at different ages, and the way they should be treated, there's the matter of what we might call "crib-side manner." That is, we try to relate to the child as close to his own terms as we can. This gives us a chance to become children again if just for a moment. We have to love doing this or it will show. Because of our training and because of our frequent collaboration with pediatricians we have tricks up our sleeves to gain the confidence of both parents and children that make difficult, annoying treatment go more smoothly.

An important "trick" we have in the office is doing whatever has to be done to Mom, Dad, or even ourselves first. Shot? We have the parents roll up their sleeves and give them a shot of saline. Or a dummy scratch test. We might use our stethoscope on Dad's chest or Mom's back to put the child at ease, or allow the child to listen to ours.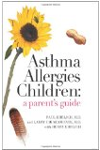 More About this Book
Asthma Allergies Children: A Parent's Guide
Asthma and allergies are at epidemic proportions. It doesn't have to be that way. Two experienced pediatric allergists tell everything a conscientious parent needs to know about these conditions,...
The world of allergies can certainly be a confusing one! The first thing to consider is whether you are dealing with environmental allergies (such as to pollen, cat, dog, etc.) versus food allergies (peanuts, shellfish, etc.).
In the case of environmental allergies that are easily identifiable (such as with the change of seasons or with pet exposure), your pediatrician can easily diagnose the problem and recommend a treatment plan. If symptoms fail to improve or worsen, it is reasonable to see a pediatric allergist to obtain further testing to confirm the allergen and to optimize management. This is critical because significant allergy symptoms that are left untreated can really affect a child's quality of life.
In the case of food allergies, it's a completely different story! As soon as a food allergy is suspected, you should consult your pediatrician. With a careful history and physical exam your pediatrician should be able to determine if further testing is needed. If your pediatrician suspects a food allergy she should refer you to a pediatric allergist to confirm the diagnosis and identify the allergens. A pediatric allergist is able to perform skin-prick and blood testing in the office. The results of these tests in combination with the child's history should provide a more definitive answer. Additionally, pediatric allergists are specially trained to manage food allergies and are knowledgeable about the latest research and treatment protocols.
It is critical to identify and treat food allergies immediately, because unlike environmental allergies, food allergies can be life threatening. While it is essential to see a pediatric allergist, you should always remember never to leave your pediatrician's office without proper instructions and a prescription for epinephrine!
Continue Learning about Allergies in Children