With nasal allergies, parents take the line of least resistance in administering prescribed treatment to their children. Let's face it, getting children to sit still while Mom shoves a tube in their nose is a pain in the neck for Mom, not to mention what it does for the child. Thus, children are frequently overtreated with strong chemicals -- steroids and bronchodilators -- in the lower airways when much lower-tech preventive treatments such as irrigation of the upper airways with salt water would stave off the need for rescue. Simple, but yucky. In fact, the problem isn't confined to children with allergies, but it also has implications for those who suffer from frequent ear infections and thus are treated with antibiotics more than they should be.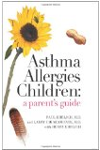 More About this Book
Asthma Allergies Children: A Parent's Guide
Asthma and allergies are at epidemic proportions. It doesn't have to be that way. Two experienced pediatric allergists tell everything a conscientious parent needs to know about these conditions,...
Continue Learning about Allergies in Children