Your doctor should instigate an in-depth discussion about what might be triggering the allergic reaction. She should ask about where you were and what you were eating beforehand, depending on the type of reaction. She'll also ask what's different in your life right now that didn't exist before the reaction.
Then she'll ask you and your child to be aware of these potential triggers and make a note if your child has a reaction. If you can't figure it out this way, an in-office radioallergosorbent test (RAST) might help. This a blood test to identify what is causing your allergies. Once you know what's causing the allergy, the best thing to do is to avoid it.
When avoiding the trigger is not possible, she'll suggest over-the-counter (OTC) or prescription antihistamines for seasonal allergies to prevent and tone down the overreaction your body has to the substance. The only drawback to most short-acting OTC antihistamines is that they may cause drowsiness. However, Claritin and Alavert are non-sedating and are now available without a prescription. Longer-acting antihistamines require a prescription.
Depending on the severity of your child's allergies, she may need an allergy shot. These are given when the allergen can't be avoided and the symptoms become unbearable.
For food allergies, your doctor should write a prescription for an Epi Pen, which is an auto-injector of epinephrine in a lightweight "pen" for allergic emergencies. Keep it in close proximity to your child at all times.
From Good Kids, Bad Habits: The RealAge Guide to Raising Healthy Children by Jennifer Trachtenberg.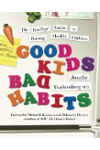 Continue Learning about Allergies in Children