A skin test (in which a small amount of a suspected allergen is injected under the skin) or Radioallergosorbent Test or RAST (which involves blood analysis) with positive results in response to a food does not mean a person is allergic to the food. Allergy has to be confirmed by a challenge test. The patient may have the antibodies, yet be tolerant. A positive result may prompt a general practitioner (GP) or pediatrician to recommend that those foods be avoided in addition to the peanuts, say, or milk, where the sensitivity is dangerous enough.

However, this technical sensitivity may not represent a problem that has to be handled with the same red-alert vigilance as the primary concern. To stop with that test and rule out exposure to the whole range of foods categorically will have some pretty severe repercussions -- financially, psychologically, experientially and even medically for the patient and the rest of her family.

Extending the same kind of protection necessary for the big allergies to these marginal sensitivities will make your child miserable. We don't want our food-allergic or asthmatic children for that matter to live in a bubble. A kid who can't enjoy the universal rite of passage of the peanut butter and jelly lunch shouldn't be deprived of the tuna sandwich with mayo just because a RAST shows sensitivity to fish or egg, which is in the mayo. Conversely, a kid who can't eat ice cream shouldn't go without peanut butter if he doesn't have to. Much more beneficial to the patient, family, and extended family would be to see whether the child is allergic in the practical sense, or merely test-positive.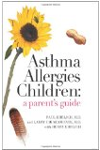 More About this Book
Asthma Allergies Children: A Parent's Guide
Asthma and allergies are at epidemic proportions. It doesn't have to be that way. Two experienced pediatric allergists tell everything a conscientious parent needs to know about these conditions,...
Continue Learning about Allergies in Children