The very low humidity on airplanes combined with changes in cabin pressure can wreak havoc on tear ducts and sinuses, both of which play a role in staving off allergic attacks. Moreover, there's the danger of exposure to airborne germs as air recirculates. Protect your child's defenses with regular saline irrigation before you take off and while aloft. Make him drink plenty of liquids, too.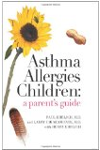 More About this Book
Asthma Allergies Children: A Parent's Guide
Asthma and allergies are at epidemic proportions. It doesn't have to be that way. Two experienced pediatric allergists tell everything a conscientious parent needs to know about these conditions,...
Continue Learning about Allergies in Children