Allergic children should not smoke. How about their parents? Quite apart from the fact that secondhand smoke is a hazard for the health of even nonallergic people and is poison for the allergic, the children's role models should not smoke. When I was growing up, parents smoked routinely. (See the movie Good Night, and Good Luck which was set in the 1950s or the cable television show Mad Men set in the 1960s for a glimpse of the bad old days of cigarettes.

Naturally, kids back then imitated their parents by stealing their cigarettes and hid them from parents until they could sneak off and light up. Those children are today's addicted smokers, and once again they are hiding their habit only now it's from their own kids. If you must smoke, do so only outside the home.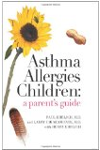 More About this Book
Asthma Allergies Children: A Parent's Guide
Asthma and allergies are at epidemic proportions. It doesn't have to be that way. Two experienced pediatric allergists tell everything a conscientious parent needs to know about these conditions,...
Continue Learning about Allergies in Children