A true allergic reaction to a medication usually involves hives, wheezing, or difficulty swallowing or breathing (all can be a true emergency). Your child may have a nonallergic reaction or side effect that may include stomachache, diarrhea, or sun sensitivity. Side effects do not necessarily mean that your child should stop taking the medicine, but call your doctor right away and check if you suspect something is wrong.
Most reactions are not serious. Since kids are typically taking only one medication at a time for an acute condition (such as an ear infection), we don't have to worry quite as much as we do for adults, who might be taking several medications at once, which can complicate things.
If your child breaks out in hives, for example, call the doctor, who'll advise you what to do next, such as stop the medicine or switch to something else. Your doctor will note the reaction in your child's medical record so that the medication won't be prescribed again. Add this to your home records, too, and tell the pharmacist so the reaction is in your child's prescription record. The chance of a reaction is worrisome, I know, but the benefits of a needed medication usually far outweigh the possible side effects.
From The Smart Parent's Guide: Getting Your Kids Through Checkups, Illnesses, and Accidents by Jennifer Trachtenberg.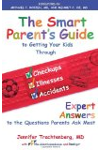 Continue Learning about Allergies in Children