According to the Food Allergy & Anaphylaxis Network, "Most children outgrow their food allergies to milk, eggs, soy and wheat, by the time they are 10 years old. Allergies to peanuts, tree nuts and shellfish are however lifelong. However, studies have shown that 20 percent of children may outgrow their allergies to peanuts and 10 percent outgrow their allergies to treenuts."
This may cause changes in the treatment of their allergies.
Allergy treatment in children may vary for a few reasons. For example, treating a child between the ages of 2 and 3 is different from treating a child between 3 and 4. Why? Because one is in that very real stage known as the "terrible twos," when children say no to everything and begin to test their debating skills, whereas by the time 4 rolls around, they are more likely to have reached an age of (comparative) reason. Up to the time of preadolescence, children seem to attain some degree of ease with their treatment. They become knowledgeable and even cooperative, although boys and girls are somewhat different. They remain reasonable until they approach adolescence, when a whole new set of dynamics kicks in, and the gender differences become more pronounced.
The conventional wisdom is that the child will probably outgrow one allergy-related problem or another. They might, but chances are that each condition they outgrow will be followed by another down the road—accompanied by the psychological problems that come from having spent their childhood sneezing, wheezing and scratching.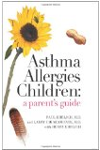 More About this Book
Asthma Allergies Children: A Parent's Guide
Asthma and allergies are at epidemic proportions. It doesn't have to be that way. Two experienced pediatric allergists tell everything a conscientious parent needs to know about these conditions,...
Continue Learning about Allergies in Children