Allergic symptoms don't appear on cue in our offices any more than a car stalls in front of a mechanic, so we often need to assess our patients' allergies in the absence of immediate symptoms. One of the methods we use is to question patients and their parents about certain behaviors that indicate underlying allergy. These behaviors include the "allergic salute," a very specific involuntary sequence of movements that indicates nasal allergies. There are others. For example, a clenched fist in the middle of the chest may look like someone having a heart attack, but when the patient is a child it probably means something else -- tightening due to asthma.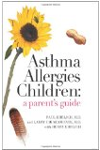 More About this Book
Asthma Allergies Children: A Parent's Guide
Asthma and allergies are at epidemic proportions. It doesn't have to be that way. Two experienced pediatric allergists tell everything a conscientious parent needs to know about these conditions,...
A skin prick test or a blood test for IgE antibodies is commonly used to begin to determine if an allergy exists. The results of the test along with history of symptoms, possibly a food challenge are used to determine if an allergy exists.
Continue Learning about Allergies in Children