Sometimes allergies turn up when you least expect them, unless you're an allergist. Take the case of 12-year-old Tommy. He had been a snorer for years, but no one thought much of it except the people within earshot when he was asleep, which did not include his pediatrician, naturally. However, the pediatrician did notice at a routine camp checkup that Tommy was developing an overbite and referred him to an orthodontist. The dentist applied braces with frequent return visits for tightening. Progress was slow. A snorer by night, it turns out that Tommy was a mouth breather by day. And because lip and tongue pressure against the upper palate are needed to help braces form a good dental arch, the orthodontist began exhorting Tommy to breathe through his nose. Tommy just couldn't do it because his nose was stuffed up. After discussion with the pediatrician, the dentist agreed that a visit to an allergist might help. An allergic treatment program for Tommy resulted in clearer nasal passages and much faster progress in correcting his overbite.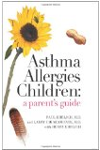 More About this Book
Asthma Allergies Children: A Parent's Guide
Asthma and allergies are at epidemic proportions. It doesn't have to be that way. Two experienced pediatric allergists tell everything a conscientious parent needs to know about these conditions,...
Continue Learning about Allergies in Children